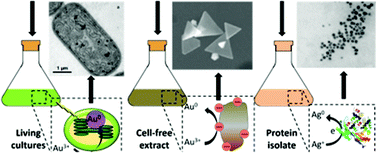 Green Chem., 2016, Advance Article
DOI: 10.1039/C6GC02346K, Critical Review
Si Amar Dahoumane, Mourad Mechouet, Kushlani Wijesekera, Carlos D. M. Filipe, Clemence Sicard, Dennis A. Bazylinski, Clayton Jeffryes
This review presents an exhaustive and in-depth description of inorganic nanoparticle biosynthesis from photosynthetic organisms, known mechanisms and bio-applications.
Algae-mediated biosynthesis of inorganic nanomaterials as a promising route in nanobiotechnology – a review
a
School of Biological Sciences & Engineering, Yachay Tech University, Hacienda San José, San Miguel de Urcuquí, Ecuador
E-mail:
sdahoumane@yachaytech.edu.ec
bLaboratoire de Physique et Chimie des Matériaux, Université Mouloud Mammeri, Route de Hasnaoua, Tizi-Ouzou, Algeria
cDepartment of Chemical Engineering, McMaster University, 1280 Main St. W., Hamilton, Canada
dInstitut Lavoisier de Versailles, UMR CNRS 8180, Université de Versailles St-Quentin-en-Yvelines, Université Paris Saclay, 45 avenue des Etats-Unis, 78035 Versailles Cedex, France
eSchool of Life Sciences, University of Nevada at Las Vegas, 4505 S. Maryland Pkwy., Las Vegas, USA
f
Nanobiomaterials and Bioprocessing (NAB) Laboratory, Dan F. Smith Department of Chemical Engineering, Lamar University, PO Box 10009, Beaumont, USA
E-mail:
cjeffryes@lamar.edu
Green Chem., 2016, Advance Article
DOI: 10.1039/C6GC02346K, http://pubs.rsc.org/en/Content/ArticleLanding/2016/GC/C6GC02346K?utm_source=feedburner&utm_medium=feed&utm_campaign=Feed%3A+rss%2FGC+%28RSC+-+Green+Chem.+latest+articles%29#!divAbstract
Promising nanotechnological platforms, based on inorganic nanoparticles and nanomaterials, have emerged in such fields as targeted drug delivery, bio- and chemical sensing, catalysis, antimicrobial coatings, and optoelectronic devices, among others. However, concerns regarding the sustainability of physicochemically-synthesized nanomaterials, which often require energy-intensive processes, high temperatures, toxic solvents or undesirable chemical wastes, have also emerged. Researchers have therefore looked to replace chemical syntheses by sustainable and environmentally friendly techniques. Biosynthesis of nanomaterials, i.e., the use of living organisms, their components, extracts or biomolecules, as catalysts for the sustainable production of nanomaterials, has experienced a tremendous expansion during the last two decades. Among these production platforms, the roles of algae have attracted increasing attention from research scientists worldwide. The aim of the present review, the first of its kind, is to provide important information to readers regarding the diversity of algal strains exploited in the booming field of nanobiotechnology and green chemistry, the various methodologies through which these diverse organisms are used, the variety of fabricated nanomaterials composed of noble metals, oxides and chalcogenides, and the significance of the large range of sizes and shapes of these nanomaterials that confer to them unique properties desirable for specific bio-applications.
////////Algae-mediated biosynthesis, inorganic nanomaterials, promising route, nanobiotechnology, review