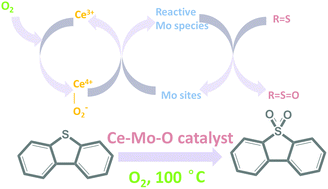 Green Chem., 2016, Advance Article
DOI: 10.1039/C6GC01357K, Paper
Yawei Shi, Guozhu Liu, Bofeng Zhang, Xiangwen Zhang
A Ce-Mo-O catalyst showed remarkable performance for aerobic oxidative desulfurization without sacrificial agents at 100 [degree]C and atmospheric pressure.
Oxidation of refractory sulfur compounds with molecular oxygen over a Ce–Mo–O catalyst
a
Key Laboratory for Green Chemical Technology of Ministry of Education, School of Chemical Engineering and Technology, Collaborative Innovation Centre of Chemical Science and Engineering (Tianjin), Tianjin University, Tianjin 300072, China
E-mail: 
gliu@tju.edu.cn
, 
zhangxiangwen@tju.edu.cn
Fax: 
+86 22 27892340
Tel: 
+86 22 27892340
Green Chem., 2016, Advance Article
DOI: 10.1039/C6GC01357K
http://pubs.rsc.org/en/Content/ArticleLanding/2016/GC/C6GC01357K?utm_source=feedburner&utm_medium=feed&utm_campaign=Feed%3A+rss%2FGC+%28RSC+-+Green+Chem.+latest+articles%29#!divAbstract
A Ce–Mo–O catalyst prepared by a simple sol–gel method was proved to be highly active for aerobic oxidative desulfurization. Almost complete conversions of dibenzothiophene and 4,6-dimethyldibenzothiophene were achieved without any additional sacrificial agent at 100 °C and atmospheric pressure, and the conversion of benzothiophene could reach 97%. Reusability of the catalyst was also conducted, and >99% conversions could be achieved in three consecutive runs. As supported by carefully-designed control experiments, oxygen was activated by Ce species in the catalyst first, forming some reactive oxygen species, which oxidized DBT into DBTO2 with the assistance of Mo species. Furthermore, selective quenching experiments indicated the generation of superoxide species during the reaction.
/////////